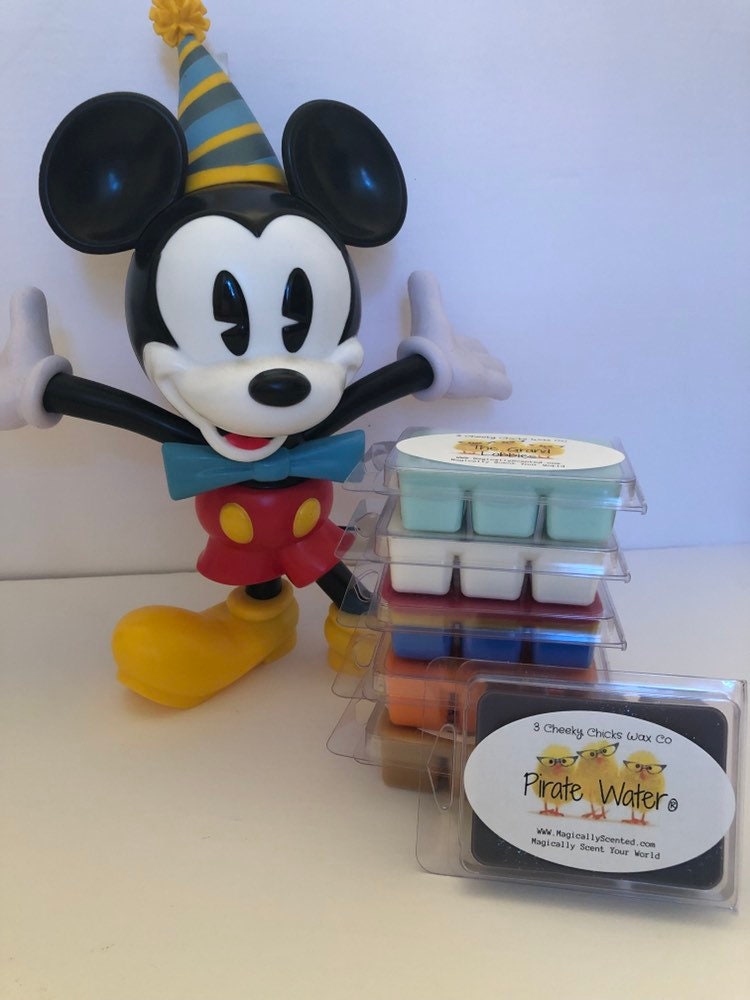 Can't make up your mind? Chose from any scents we have! Not all are listed in the list below. Get them in groups of 4 and enjoy. Just pick the 4 that you want and enter the scents in the NOTES TO SELLER, it's that easy! Lots of Disney Inspired Scents to choose from

**THESE ARE OUR OWN INTERPRETATION OF SCENTS AND MAY NOT SMELL THE SAME WAY TO EVERYONE **

Barbershop On Main
(White in Color)
Classic Barbershop scent

Best day EVER! (Rapunzel)
(pink in color)
Sun ripened Strawberries mixed with freshly squeezed lemonade

Breakfast At Mickeys
(Tan in color)
Gooey Maple Syrup with hints of Vanilla Waffles

Burnt Empire
(blueish Gray in color)
Very much the scent of the ride Spaceship Earth. Burning embers and smoke

Campfire Sing Along
(White Color)
Campfire Sing-A-Long
Scents of a crackling fire, toasted marshmallows, Dark Chocolate.

Caribbean Beach Club Lobby
(White color)
Tropical creamy coconut with a hint of tanning lotion

Churro
(Golden brown color)
Everybody Loves Churro's! The smell of sweet buttery dough mixed with notes of cinnamon and sweet vanilla.

Cider House Lane
(Maroon Color)
This is exactly the smell you get when you go to fairs and festivals - the top notes of crisp, juicy apple, and gooey caramel - all the best smells of Fall! YUM! Apple Cider meets Caramel Apple. A yummy blend! You will totally love this delicious Fall scent blended with mulled cider, warm caramel and sweet cinnamon

Daisy's Diner
(purple color)
Blueberry pancakes with maple syrup

DeVil Woman (Cruella de Vil)
(White)
Warm blends of bergamot, cinnamon, and cannabis. Floral notes of geranium, lilies, roses with under notes of patchouli, sandalwood and musk. As if that wasn't enough we blended a bit of tobacco in for a sweet bit of fun.

Ellie's Badge (UP)
(Purple color)
Ellie's badge is the highest honor of all with rich grape and raspberry blended with bubbly club soda and a hint of sweet sugar. A scent to take you back to your childhood.

Evil Queen
(Purple color)
Fresh Macintosh apples with hints of vanilla

Fab Five
(Light blue color)
The Fab Five is fun and Fizzy! Fizzy Pop and Salt Water Taffy is this fun scent

Ganachery
(Brown color)
Fresh cocoa bean warmed with a hint of caramel. Then this is blended with patchouli for a very unique twist.
Cashmere woods, sugarcane and clear musk add to this sweet blend.

Glass Slipper (Cinderella)
(Light Blue Color)
If Cinderella had a signature scent, we think it would smell like this. Clean, crisp and fresh. Sweet and a little sassy. Top notes of sparkling lemon, Valencia Orange and lime. Middle notes of sugared mint, fresh verbena and orange blossom. Bottom notes of Italian Cedarwood and transparent musk.

Gracey's Place
(Purple color)
Very Dusty, Musty and hints of floral. Resembles the scent of Haunted Mansion

Hang Glidin' (original Soarin')
(Turquoise color)
Pine scented mountains, Salty oceans and fragrant orange groves

Icy Magic (Queen Elsa)
(Pale Blue Color)
Elsa's has the magical power to create and control ice and snow. We think beautiful Elsa should have her own signature scent. Top notes of Morning Seabreeze, Bergamot and Frozen Rain. Middle notes of Juniper Berries, Chamomile and White Poinsettia. Bottom notes have hints of Cedar branches, misted vanilla and peppermint sticks. A fabulous, uplifting fresh scent fit for a Queen with an excellent scent throw!

Island Princess (Moana)
(Blue color)
sweet pineapple, acai berry, mango zest, tart passion fruit, yuzu zest, green apples, orchid leaves, and musky nuances

Jungle Juice
(Peach color)
Everyone knows that yummy juice you get at various restaurants at Disney.
Notes of papaya, orange and Guava.

Karamell Kuche (Germany)
(Tan color)
sweet gooey caramel

Main Street Memories(Walking Down Main Street)
(Orange Color)
This is a very nostalgic scent of various parts of Main Street USA. Cotton Candy and Kettle Corn

Merida's Scones
(lavender Color)
Scones are a Scottish Favorite. Notes of freshly picked blackberries are complimented by boysenberries and raspberries with nuances of buttery warm crust. This is more of a fruity fragrance with hints of bakery scents.

Mirror Mirror
(Red color)
"Dip the apple in the brew. Let the Sleeping Death seep through." Enjoy fresh apple slices with hints of sweet mulberries.

Mistress of Evil (Maleficent)
(Lime Green)
A Woodsy blend of crisp pine needles and deep white fir. Pair that with notes of clove, patchouli, oak and sugar pine. She needed a bit of sweetness so we added a bit of pomegranate to balance all the darkness. It's definitely an invigorating, evil scent.

North Pole Cafe
(Tan color)
Christmas is always about cookies and sweets and far too much sugar. This scent turns the traditional calorie laden Christmas scent into a perfect melding of cookies and... coffee! Fresh baked gingerbread with notes of cinnamon, ginger, cloves, and rich vanilla along side a cup of steaming hot coffee with a hint of mocha and sweet cream.

Off With Their Heads
(Pink Color)
A sweet floral blend of rose petals with a touch of vanilla. Inspired by Rose Jam by Lush.

Oh Mickey
(Red color)
creamy vanilla, juicy orange, sweet pineapple and LOTS of maraschino cherries

'Ohana
(Orange color)
Sweet Papaya and Juicy Mango (our signature scent, not based on the restaurant or the Polynesian Resort in any way)

Olaf's Warm Hugs
(White color)
Olaf loves warm hugs and you will love them too. Refreshing peppermint and vanilla make this hug a very cool blast. This scent is really great for headaches, relaxation and stress..

Park Opener (Starbucks Coffee Shop on Main Street)
(Dark Brown Color)
Fresh brewed Hazelnut coffee and cream

Passage (Flight of Passage)
(Blue in Color)
As you are standing in line to ride Flight of Passage your senses take you to a calming beautiful clean scent. This is where fresh air meets the ocean.

Pineapple Twirl (Dole Whip)
(Yellow color)
Creamy vanilla and sweet pineapple

Plaza Parlor
(Tan color)
Everyone know that yummy scent where the plaza is. Yes it's yummy ice cream, but more importantly....WAFFLE CONES The scent of Waffle Cones waft out onto Main Street. Sooo Yummy

Pirate Water®
(Dark gray color)
Musty dark, dirty, Salty water. Resembles the musty parts of the Pirates Of The Caribbean ride

Poly Lobby (old lobby scent)
(Reddish Orange color)
The Polynesian Resort at Walt Disney World has a distinctive scent of Bamboo and paired with White Tea and Ginger. Its a smell that has been there forever and even now more noticeable since the removal of the waterfall. **This scent is very strong on cold sniff, as it melts it mellows out. **

POP Century (Resort Lobby Scent)
(Orange color)
Green Tea and Lemongrass

Popcorn Cart
(Yellow color)
Warm buttery popcorn

Port Orleans Lobby (French Quarter)
(Light Blue color)
Take a trip to the lobby of the Port Orleans French Quarter. Where the flowers are always fragrant. A clean, fresh scent that blends cotton, mandarin blossoms, freesia and peonies.

Redhead
(Light Tan color)
Aside from the musty water of Pirates of the Caribbean there is a heavy scent of Vanilla Tobacco in the Wench's scene. Rich, sweet, vanilla with billowy puffs of tobacco.

Ruler Of The Underworld (Hades)
(Icy Blue color)
A very rich, manly, blend of lavender, rosemary, and lemon verbena. Middle notes of cinnamon, coriander, leather, amber and vetiver with hints of smoke. What would Hades be with out that smoky hint?!?

Rumbly In My Tumbly
(Tan color)
Yummy, drippy honey gathered by bees from fields of wildflowers in the fresh mountain air. A beautiful and complex fragrance of sweet honey balanced & rounded by hints of powdery wildflowers, vanilla and sandalwood.

Sanderson Sisters Bed and Breakfast
(Burnt Orange Color)
A warm waffle topped with pumpkin maple syrup, highlighted with sweet butter and crushed pecans

Sea Hag (Ursula)
(Purple color)
A warm, rich, woody blend of smoky sandalwood and mint with a floral bouquet of roses, lily of the valley, lilacs, and sweet violets with undernotes of musk.

Sleeping Curse
(Purple color)
Vanilla and Lavender with a hint of Vanilla Ice Cream

Sleepy Hollow
(Black Color)
A dark blend of evergreens and hardwoods mixed with a bit of patchouli and a hint of smoke. To mellow it out we added bottom notes of blood oranges and raspberries.

Sorcerer Radio
(Orange Color)
We are super excited to collaborate with Sorcerer Radio and bring you this most amazing scent. It's time to sit back and relax with a magical scent while listening to Sorcerer Radio! A Fabulous blend of mahogany, cedar wood and oak, with top notes of fresh lavender and geranium. Its the perfect unisex scent!

Spoonful Of Sugar (Mary Poppins)
(Pale pink color)
Cotton Candy, with hints of jasmine and musk. Bottom notes of sweet butter cream icing (very subtle)

Street Rat (Aladdin and Abu)
(Pale Yellow Color)
Aladdin and Abu are crazy in the streets looking for their Princess. This is a crazy strong blend of Manzano Banana, caramelized sugar cane. Middle notes of toasted crème brulee, rich clove, and decadent custard with bottom notes of Island Plantain Leaf, Black Coconut and Mango Butter. Your nose will love this and it has an excellent scent throw.

Sugar Rush (Vanellope von Schweetz)
(Turquoise color)
Crazy sweet and crazy strong! Top notes of Pink lemon and citron; middle notes of candied strawberry and lime zest with loads of sugar cane and vanilla extract on the bottom

Svens Carrot Cake
(Orange Color)
Sven's Carrot Cake was inspired by Svens love for carrots. Spicy carrot cake with cream cheese icing makes this a delectable scent.

Sweet On Gaston
(Golden brown color)
Cinnamon rolls with gooey cream cheese frosting

Sweets On The Street
(Pink color)
Cotton Candy

Tea With Alice
(Hot Pink Color)
The aroma of warm, rich tea steeping beside a fresh slice of cake is at the heart of this charming fragrance.
Notes:
Top - lemon, lime, orange
Middle - rosewood
Bottom - vanilla, tonka, maple  

The Grand Lobbies (Grand Floridian, Contemporary, Bay Lake and Beach Club Resort Lobbies)
(Mint green color)
Aloe and clover

The Lands
(Dark Green color)
An herbal, garden-fresh fragrance, with a dewy citrus grapefruit, bergamot and subtle fruity top-note, a tomato leaf, wild-herb and gentle floral middle-note, with a moist, musky-earthen, twig-like base-note.

The Queen's Apple Pie
(Tan Color)
A perfect blend of baked apples lightly spiced with cinnamon in a rich filling in a warm baked crust.

Tiki Room
(Light yellow color)
Sugared Citrus (orange, lime and lemon) violet leaves, sweet japanese quince, sun ripened cassis, sparkling pamelo with hints of sun weathered driftwood and exotic mountain greens.

UnBirthday
(Dark Turquoise color)
Totally scrumptious! Sweet buttery notes with hints of toffee, tiny hints of chocolate with loads of sweet and slightly fruity buttercream in a creamy, fluffy vanilla cake. YUM! This is to die for! Totally irresistible, Darling!

West Wing(Beauty and the Beast)
(Blue Color)
Refreshing masculine blend of petitgrain, cardamom, and citrus, infused jasmine and rosemary with a base of musk, oakmoss and brazilian rosewood.

Wilderness Lodge
(Dark brown color)
This is our inspired scent for the Wilderness Lodge.
Top notes of fresh mahogany, blood orange, and red pepper with mid notes of Clary Sage Absolute and cognac on a base of bourbon vanilla, golden amber, tonka bean, and sandalwood.

Wonderland
(Blue Color)
Wonderland, What do you imagine it smells like? How about fruity fusions of luscious Strawberries, Wild Goji berries and ripe raspberries. While scents of Gardenia and frosted jasmine intoxicate the mind. Peach nectar, White Amber, Coconut musk and Creamy Vanilla soothe the soul. Curious, don't you think?

Ye Olde Christmas Shoppe
(Dark green color)
A traditional Christmas scent that is well known at the Magic Kingdom's Ye Olde Christmas Shoppe
Notes of Frasier Fir, Cinnamon and spices

Handmade item
-Materials: Parasoy wax , Clamshell Molds, High quality fragrance oil, Coloring
-Hand poured by order
-Ships to United States and Canada from Buford Georgia

About our wax tarts:
Our wax tarts are hand poured into clamshell packages and weigh approximately 3 oz each. These packages make 6 breakaway cubes that can be use 1-2 at a time depending on the size of your wax warmer. We make our tarts with a custom blend of paraffin and soy wax. This blend allows the maximum fragrance load and long lasting scent.

How to use wax tarts:
Break off 1 or 2 tarts depending on the size of your wax warmer and enjoy the fragrance for 6 to 8 hours. You can use for a few hours at a time until the fragrance has burned away. Always follow the manufacturer's instructions for your device. Melted wax will be very hot, do not leave unattended or near children.

Warnings:
Never leave melting wax unattended. Keep out of reach of children and pets. Never add water or any foreign substance to your warmer bowl. Not Edible. Avoid skin contact with hot or warm wax. Follow the manufacturer's instructions for your wax warmer.

**THESE ARE OUR OWN INTERPRETATION OF SCENTS AND MAY NOT SMELL THE SAME TO EVERYONE**
Shipping from United States
Processing time
1-2 weeks
Estimated shipping times
North America : 3 - 5 business days
I'll do my best to meet these shipping estimates, but can't guarantee them. Actual delivery time will depend on the shipping method you choose.
Customs and import taxes
Buyers are responsible for any customs and import taxes that may apply. I'm not responsible for delays due to customs.
Returns & Exchanges
I gladly accept cancellations
Request a cancellation within: 5 hours of purchase
I don't accept returns or exchanges
But please contact me if you have any problems with your order.
Frequently Asked Questions
Custom and personalized orders
Yes, we do any occasion! Just message us and we will get back with you within 24 hours to discuss the order.
I was hesitant to try this product, thinking it would be a sample size of four different scents. But this is probably the best purchase I've made in quite a while. The scents are wonderful, long lasting, and regular sized. Thank you so much, I'll be ordering more!
These smell amazing! They're going to be the perfect Christmas gift for a friend who's missing disney terribly!